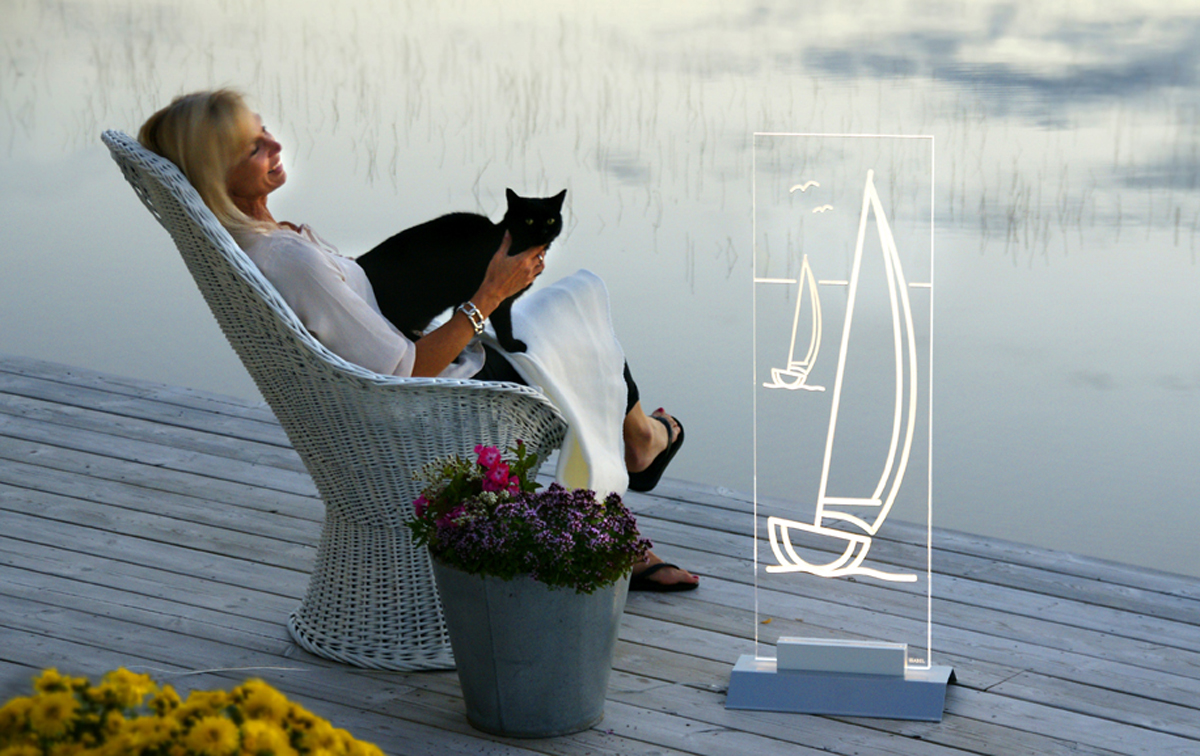 ISABEL is a Swedish brand offering exclusive Swedish-made LED lighting. These are very fine lighting products with a clean design and astonishing energy-saving technology. Design and technology are intertwined in ISABEL's products. Creativity, an energy mind-set and high quality are three hallmarks of ISABEL that have been shining with LED technology, the light of the future, since 2005. ISABEL'S lights are well suited for use in energy-conscious homes and public spaces. ISABEL lighting goes beyond mere traditional lighting. With its clear, beautiful glow and brilliance, it is a fabulous decoration that provides that little extra in a window or room! Choose from many different models and radiant patterns! An ISABEL lamp is the perfect gift when you want to give someone something that is unique and special. From where did we get the beautiful name ISABEL? We had 'radiant ice' in mind, two words in Swedish that together form "Isabel". Thus, ice and lighting became our registered trademark, ISABEL®.
ALMOST 20 YEARS AGO
A longing to create a beautiful, radiant design product was the start of what today is ISABEL. Being able to see your own designer patterns and motifs illuminated in a way no one had ever seen before…
This was in the era of the warm glow of incandescent lamps, long before the entrance of energy-saving LED lighting technology. Jan Andréasson, owner of the product development company, Konkretek AB in Mullsjö, helped his daughter, Louise, in manufacturing lighting for an engraved pattern in glass. The product would then be exhibited at an art and design graduation exhibition. It resulted in a neat, small creation where Louise Lidbrandt's engraving pattern glistened for the very first time. That was in 1996. What no one knew at that time was that this was the very first prototype of ISABEL! However, the years passed and the idea of illuminated patterns in glass was shelved only to be taken up again much later.
LED – THE LIGHTING OF THE FUTURE
In 2004, Andréasson began experimenting with and studying advanced LED technology, which was new and unknown on the market at the time. Jan thought that working with such powerful lighting and its incredibly low energy consumption was fascinating. He became more and more convinced that this must be the lighting of the future! It seemed that it was now time to make reality of the idea with illuminated patterns in glass… Louise's artistry was thus woven together with Jan's innovativeness and technical skills.
---
"We always strive to extract the maximum amount of light using the least amount of power possible. We never recess or screen off light. Our hallmark is pleasant, clear light with a broad light dispersion. We want to be able to utilize all the light that we can extract using our unique technology and design. ISABEL is unlike traditional lighting and appeals to people who enjoy decorating according to their own taste and style, and not least with a conscious energy mind set. Using ISABEL, it is possible to reduce one's energy consumption in a stylish and elegant way using the lighting of the future! We are pushing ISABEL towards the future and we want to continue to make people happy with our unique lighting and design!"
Jan Andréasson och Louise Lidbrandt, Mullsjö, Sweden. September 2014